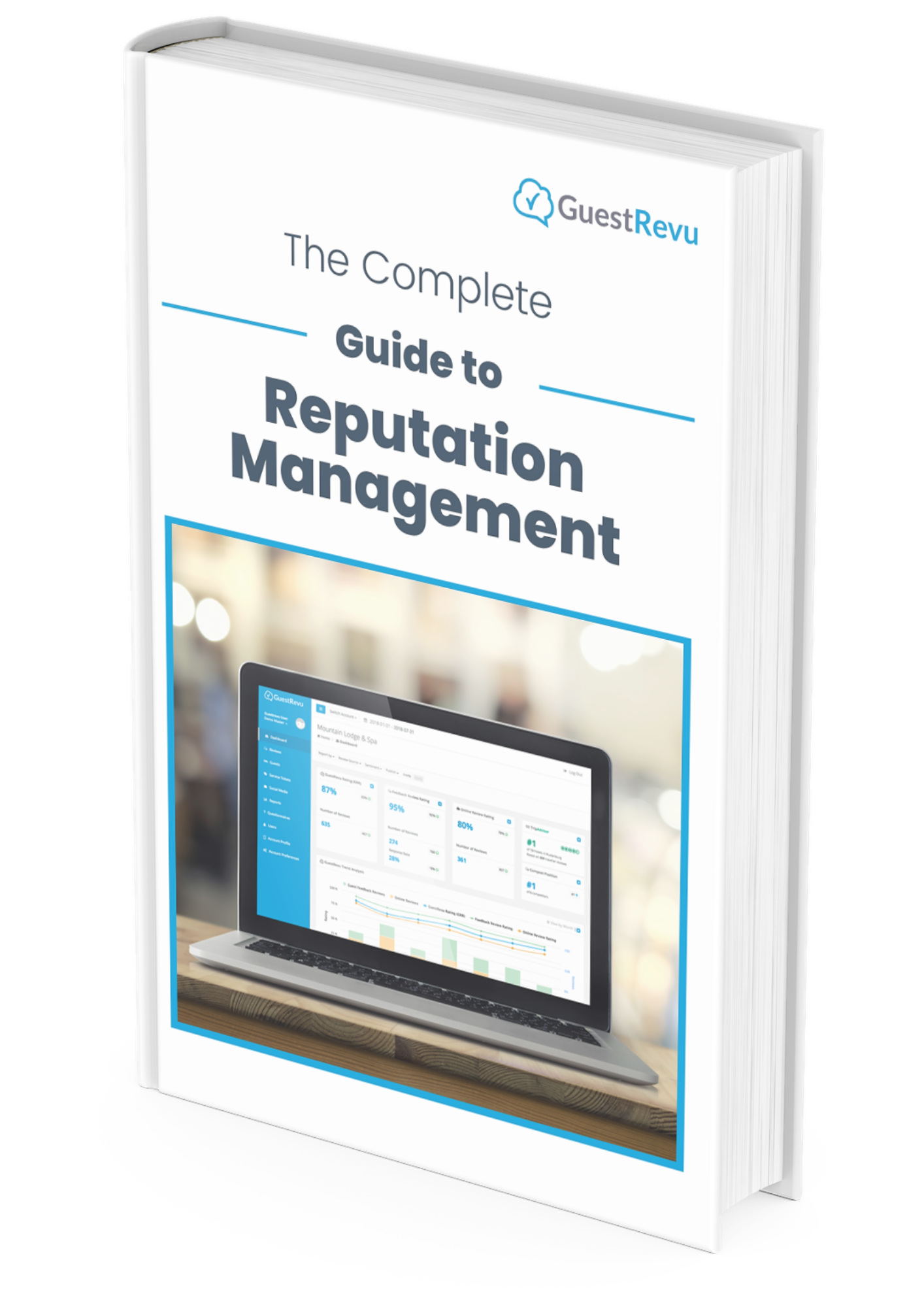 The complete hotelier's
Guide to Online Reputation Management
There was once a time when a single good review from one critic published in a travel or lifestyle magazine could see your reputation soar and bookings cascading in. Today, reviews are the domain of the masses, and every person who has ever stayed at your hotel is a critic with an audience of millions, writing reviews on sites like Tripadvisor, Facebook, Google, Booking.com, and hundreds more for all future guests to read. That's why online reputation management (ORM) has become so important in the hospitality industry — every hotel has an online presence, whether they know about it and manage it or not.
How the modern traveller shops
People plan their travels, book hotels, experience new places, and share their travels afterwards online. This means that hoteliers have to maintain their hotel's online image just as thoroughly as their physical premises in order to stay competitive. Knowing the processes that travellers go through to find a hotel can help you to make sure that they find yours, and that what they find online encourages them to book your hotel rather than your competitor's.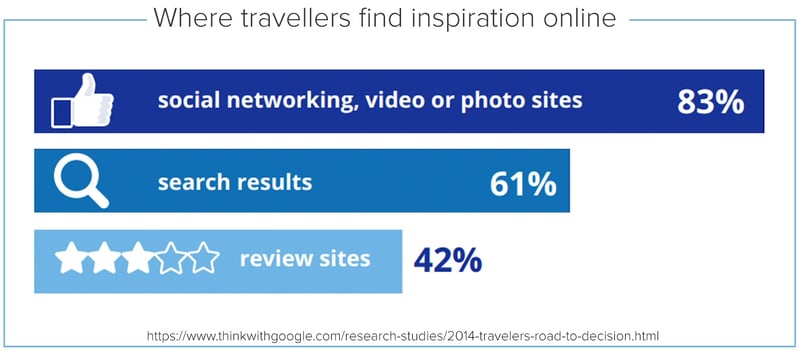 Learn about where travellers find inspiration online
Since 61% of travellers will use an online search engine as their first port of call when researching an upcoming holiday, making sure that the right information comes up when people search your hotel online, and that your hotel comes up amongst the search results when people search for accommodation in your area, will help guests to choose your hotel over those that appear further down in the results, or don't come up at all.
However, while the search engine has done away with many of the traditional marketing angels previously used by hotels and guests, word of mouth hasn't disappeared – it's just been amplified in the form of online reviews.
If you do a Google search for any hotel, from The Ritz Hotel, London to Hotel Ass, Cologne (it's real, we promise) you'll find that the top results include listings from online travel agencies (OTAs) like Booking.com and review sites like Tripadvisor, all of which feature reviews for the hotels to help those who are thinking of staying to decide whether they should book.
It is important for any hotelier to regularly update your online travel agent (OTA) listings and your own website with photographs, testimonials, news and your latest pricing. Quality content on all of these platforms will show potential guests an accurate and uptodate impression of your hotel and indicate how active you are.
Getting lots of reviews, even if they aren't all perfect, is also a vital part of optimising your OTA listing. Often the key to a good listing isn't necessarily the quality or score of the reviews, but the quantity. For example, Tripadvisor calculates hotels' rankings based on quantity of reviews, recency of those comments and the quality or overall score of the review.
One of the striking differences between old-fashioned word-of-mouth and online reviews (besides the exponentially increased audience) is your ability to respond to them. The benefits of a chance to be an active participant in the conversation about your hotel cannot be underestimated, and the way in which you respond speaks volumes to your potential guests. Even a negative review can become an opportunity to show others how you treat guests and how much feedback means to you and your hotel.
Types of online media — owned, paid and earned
Managing your online reputation usually means juggling and managing the different types of content that can be found about your hotel online. These types of content can be broken down into three distinct areas: owned, paid, and earned media.
Owned media is what you own and control without having paid another media owner. This includes your social media platforms, your hotel's website, and your OTA listings. Making sure that all of these are optimised and up to date showing the latest photographs, information and prices is essential. You don't want guests to find different pricing across different websites, and you don't want to be showing off photographs that were taken a decade ago that no longer reflect what your hotel currently looks like.
You can also use your owned media to describe and showcase your hotel exactly as you want it imagined by your future guests. Your owned media needs to paint a picture and tell a story about your establishment and its unique features.
Paid media is what you have paid another media owner for — advertising, whether it's through Google AdWords, on websites or through social media; that premium Tripadvisor listing; or that feature that you paid to put in a magazine. These will always see your hotel being shown at its best, because you pay for it to be shown that way, and most people who are seeing your paid content will be well aware that it may not always show the whole picture. Still, paid content is extremely useful for reaching large audiences who may not have heard of you before, and helping them to find out more about you.
The last form of content and the one that your potential guests trust the most is the one that you have the least control over — earned media. This is made up of reviews that guests write about your hotel, articles that are written about you without any money changing hands, or comments on your online content — people feel confident about the authenticity of earned media, and it's a very effective form of social proof.
See how these four hotels embrace social proof
What is social proof?

Social proof is the phenomenon of people taking actions, making decisions, or forming opinions simply because others are taking those same actions, making those same decisions or forming those same opinions. Think of how, when in a queue, if one person moves to another counter, others will follow and do the same. Or if one person gives a standing ovation, others will stand around them.

When you show potential guests that others enjoyed their stays with you, or enjoyed particular aspects of their stay, it will encourage them to book with you, or to leave their own positive review as well.
Find out more about social proof and how you can use it for your hotel
While you can manage your owned and paid content, since you are directly involved in their creation and commission, managing earned content can be far more challenging, as reviews, comments and images may be positive or negative, depending on your guests' experiences. Negative feedback can be particularly damaging to your reputation if it is not being responded to. You may not be responding because you feel that it's not necessary, or that everything has been addressed elsewhere, but other readers may see your lack of response and think that everything that has been said is true, and that you simply don't care enough about your customer service to respond.
Find out more about responding reviews, with some expert tips
On the other hand, if the feedback is glowing, but is on a website with low traffic or is never being read, valuable social proof for your hotel may be getting overlooked by potential guests. Managing your online reputation when it comes to guest feedback means that you should be responding to feedback, highlighting and promoting the positive, and finding ways to fix the negative so that other guests don't experience the same difficulties when they visit your hotel.
Besides being an active participant in conversations about your hotel online and responding to criticism wherever possible, you should also be asking guests regularly to engage with your hotel online, whether that be by writing a review, posting on social media or uploading images. The more user-generated content about your hotel there is, the more likely it will paint a fair and accurate picture of your establishment. Often, guests who wouldn't have shared their experiences online ordinarily will be happy to do so if asked, and this additional social proof can do wonders for your marketing efforts.
Learn about turning guests into promoters
Many hoteliers wonder "how do I promote my hotel" but very few ask "how do I get my guests to promote my hotel". We all know that positive word of mouth is the best kind of marketing that you could hope for, and getting guests to become promoters of your hotel should be a primary objective in your marketing strategy.


Find out how to get your team to promote your hotel (without breaking review rules)
How to analyse and manage online reviews
When talking about online reputation, reviews about your hotel may be one of the first things that come to mind, and with good reason, since online reviews are one of the easiest ways for potential guests to find out what a stay at your hotel would be like. It comes back to that earned media that people trust because it's not being paid for or written by your hotel — it's seen as an honest reflection of your hotel from an impartial guest.
Managing those reviews — making sure that you keep up to date with what is being said about you online, responding to both positive and negative feedback alike, and encouraging guests to give you feedback about their stays both online and off — can be a full-time job. But what happens when you start to feel that the reviews you're getting aren't telling you enough about your hotel? What happens when a guest had a great time, but still only gives you a three-bubble rating? It can be easy to feel like the job that you're doing isn't paying off, and that's when reading between the lines becomes so important.
When guests share negative experiences online, they give you the opportunity to see your hotel from their point of view and may help you to identify strengths or weaknesses you never knew existed. If you keep track of trends in criticism and act appropriately upon negative feedback to rectify problems, you will improve future guests' experiences, and ensure that you earn more positive reviews through providing a superior offering.
Managing reviews shouldn't just be about reading over them, it should be about analysing them to see where your hotel can improve, and where you're getting things right. That can be hard to do when guests only leave one line reviews, but according to Cornell, that's usually an indication of a happier guest, since shorter reviews are usually associated with higher ratings. When a guest has had a negative experience at your hotel, they are often far more likely to give details that you can use to pinpoint what went wrong.

Even in the shorter reviews though, it's important to read between the lines to understand the guest's experience at your hotel. Often a great review will come with a lower rating than you would have expected, and knowing why that is the case often comes down to delving into the review itself to see what aspect of their stay brought the rating down. The room could have been perfect, the atmosphere lovely and the staff on the ball, but an awful meal or a lift being out of order leading to long hikes to the top floor can put such a dampener on a guest's experience that everything else going right still doesn't quite make up for their perceived grievance.
One reviewer gave a hotel only one star, while still stating "This hotel is very clean, lovely comfy pillows & beds" but focusing on the noisy nearby road as being the reason for her poor rating.
Learn more about how to find great insights by carefully reading online reviews
What it boils down to is a guest's expectations and whether you are meeting them in terms of experience provided and the price attached. In the same study, Cornell found that while positive reviews often cited experiences as the reason for guests enjoying their stay as much as they did, negative reviews often cited value for money, indicating that it's not the amount that they spend that leaves the naysayers with a bad taste in their mouths, but that what they paid wasn't worth what they got from their trip.
It's never a good idea to block a bad review. Find out why, and what to do instead.
When a guest books a stay with you, they will have certain ideas of what they are going to be getting. These expectations are usually based on the research that they have done about you, looking over reviews, perusing through the photographs of your hotel, reading about what a room includes on your website or on OTAs, and, of course, what they have paid for their stay.
If they then arrive at your hotel and find an aspect of their stay very different from what they were expecting, it adds an immediate air of disappointment to their visit which can often be impossible to overcome. This means that one of the best ways to avoid negative reviews is to make sure that guests know what to expect when they stay with you by:
Keeping marketing materials up-to-date and accurate
Removing mention of any non-functioning amenities from your OTA listings and website
Forewarning guests of any difficulties that you might be experiencing
Making efforts to mitigate the effects of maintenance or problems wherever possible
If, for example, your elevators are being repaired, let your guests know before they check-in so that they can adjust their expectations, and offer rooms on lower floors.
Letting guests discover faults on their own will lead to frustration and disappointment over a stay that is already paid for and committed to, leaving them feeling like they wasted their money.
A hotel that provides good perceived value for money by giving guests good experiences can charge more than a hotel with apparently similar features and amenities that does not provide a pleasant experience, and still be perceived as being better value for money.
Learn more about reading between the lines of ratings and reviews
Reading between the lines of your online reviews can not only tell you what areas of your hotel can be improved upon, but can show you what it is that your guests expect when they book your hotel, allowing you to better understand where you are falling short and where you are exceeding expectations.
Keeping an eye on your competitors
Often, managing your own reputation involves keeping an eye on your competitors. Guests will look at multiple sites and reviews of various hotels within an area or region they wish to travel to. Guests will be searching online for an experience that fits perfectly with thier expectations as will often also be looking for something unique and special. A hotel keeping its ear to the ground with regards to competitors' movements means that they can identify where their hotel stands out from the crowd and begin to exploit this unique selling point in their marketing communication.
[PULL QUOTE]"Staying aware of your online image is by its nature competitive. Your prospective guests aren't looking up just your reputation, they are weighing it against that of your competitors. While monitoring reviews as they come in is essential, sometimes one needs go back to basics and follow your own path to purchase to ensure that your establishment is not only putting its best foot forward online, but also measuring up to and surpassing the competition."
Learn more about how travellers shop for hotels
The big players of the hospitality industry make keeping the eye on their competition a regular habit. Keeping track of how you are performing; finding out what it is that you offer that others simply can't; and getting to know more about the hotels around you are vital parts of online reputation management.
Defining your competitive set
The first step in a competitive analysis is identifying exactly who your competitors are. After all, a five-star spa is not going to be catering to the same market as a budget backpackers.
So, how do you determine who your competition is?
You can find them based on:
Experience (both type of experience and the quality of services)
Location
Pricing
Experience
When identifying your competitors, experience type and quality are related, but not the same. As mentioned, a spa isn't really going to cater to the same market as a backpackers, because they are providing entirely different experiences. Even if the two were in the same area, they wouldn't be competitors, because they are targeting entirely different travellers.
Similarly, if you are a backpacker that provides an excellent experience, offering your guests not only accommodation, but local experiences, tours of nearby attractions, shuttles to and from the airport, or other add-ons that would make a stay with you exceptional, and you consistently receive the associated rave reviews, it would not be useful to compare yourself to a backpackers that provides beds and nothing more and receives the expected mediocre reviews.
Location
Geographical location is arguably the most important factor when defining who your competitors are. When someone decides to travel, they seldom travel in order to stay in a specific hotel. They travel because there is something in an area that they want to do or see that they can't find at home. Your location certainly does define who your competitors are, but it is your location in relation to whatever it is that guests are visiting that is important, so when you consider geographical location, make sure it's not just a circle drawn around your hotel. Just remember to also consider properties that are closely located to points of interest your ideal guest would enjoy when making your list of competitors.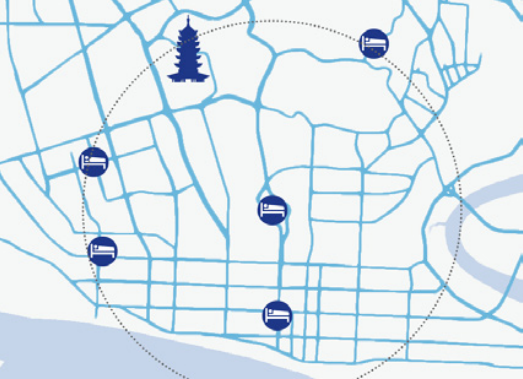 This map of Yangon shows the location of several hotels in the city, as well as the location of a popular tourist attraction, the Shwedagon Pagoda. If the hotel in the south of the city was to draw a radius around itself and include hotels within that circle, they would miss what is clearly a competitor, as the hotel in the north of the city is also close to the Shwedagon Pagoda.
Price
Finally, and possibly least important, is the factor of price points. It's least important, because many guests will dig deeper for a better experience or a prime location, but it is still something to consider. Travellers do have budgets, and you should consider the hotels that offer accommodation at similar prices to you when trying to pinpoint your competition.
Once you know who your competitors are, you should be able to successfully monitor their online reputations. Keeping an eye on competitors' social media pages, OTA listings, websites and review sites will give you a good deal of information to work with.
Find out more about defining your competitive set
Online reviews of competing hotels
An analysis of your competition's online reviews should be able to give you a wealth of insights into the way they do business and the experience they offer their guests. In particular, you should be on the lookout for:
What they're getting right — reading through a competitor's reviews will show you what it is that their guests appreciate about staying with them, giving you useful insight into what guests are looking for in a stay. Perhaps it's something that you already offer, but aren't highlighting in your marketing material, or perhaps it's something that you could easily implement to keep yourself competitive.
By keeping an eye on your competitors' guest feedback, you don't have to make mistakes yourself to learn from them – just watch what your competitors get wrong and make sure you don't copy them.
What they're getting wrong — reading reviews won't only show you what it is that guests appreciate, but what it is that they didn't like, helping you to avoid making the same mistakes as your competition and showing you areas that your competitor, and perhaps you, can improve upon.
Your competitor's social media presence
Often the way that a hotel runs their social media platforms can tell you a lot about the hotel themselves, as well as who their target guest is, and what they respond best to. If you have competitors with a bigger budget for social media than you, you can let them do the testing, research and development, and you can simply keep an eye on what their audience is responding to best, and use the learnings to inform your own strategy.
Using competitive intelligence
So, you've been keeping an eye on your competitors' pages and online presence, and you've gathered a lot of data about them, from reviews, tweets and Facebook posts, to pricing, specials and more. What exactly is it that you should be doing with this information?
The first thing to do would be to perform a SWOT analysis: an analysis of each competitor's Strengths and Weaknesses, the Opportunities and Threats that exist and how that compares with your own hotel's SWOT analysis. Consolidating this information will help you to not only make sure that you are considering the right hotels when you think of your competition, but it will show you areas where you can improve, areas that you can focus on in terms of marketing and operational decisions, and areas that your guests are looking for when they consider booking your hotel.

Bear in mind that keeping an eye on your hotel's competitors is not a once-off task, but a process that should be ongoing. And, if you consider a hotel as competition, it's likely that they may be keeping an eye on you as well, checking your social media, reviews, OTA listings and website on a regular basis.
Where does social media come in?
We've been talking a lot about online reviews, your website, and review sites like Tripadvisor when it comes to your online reputation management. But what about the other sites that your potential guests are visiting?
When it comes to websites that your potential guests are visiting, social media platforms are high on the list, and if you are using them well, you can turn that usage into bookings. But which platforms should you be using, and how?
See excellent examples of how hotel brands make the most of their social media platforms
There's no curated list of fail-proof social media platforms that hotels can use, but there are a few big players in the social media market that you will definitely have heard of.
Facebook — without a doubt, the biggest name in social media. These days it's considered almost essential for a hotel to have a Facebook page. Without one, you would not only be missing out on an extra chance for guests to leave you reviews, but also the chance to be tagged in guests' posts and photographs and the chance to boost your advertising strategy both through social proof and through Facebook's paid advertising. If you don't have a Facebook page, you're almost certainly letting your online reputation fall by the wayside, since not having a presence on the biggest social media site means missing out on a big opportunity to connect with past, present and future guests.
Twitter — Though Twitter is as big a name as Facebook, many hotels pay less attention to their Twitter accounts, simply because it's such a different platform. From the days when tweets could be nothing more than a text post of 140 characters, Twitter has come a long, long way. These days, tweets can include images, videos, GIFs, and pretty much anything else that you can think of and the character limit has recently doubled. Hotels should be taking advantage of this opportunity to get in touch with their guests. As we point out in our 7 Top Twitter tips for hoteliers, there is a wealth of opportunity to proactively connect with potential and current guests using the site, making it more than just a marketing tool, but a great customer relations platform.
Instagram — The site is entirely visually driven, focussing on images and videos rather than text or tweets, and this makes it great for hotels to show off their best side in a way that appeals to guests' emotions and inspires them to travel. This is the opportunity for you to show off your view, your restaurant, your surroundings, and attractions nearby, and having an Instagram presence will also encourage those guests who are image-driven to contribute by tagging you in their travel photographs.
Tiktok — This short-form video content site is certainly an up and coming social platform to look out for. Again, due to its visual nature, it's a great way to market a hotel experience that appeals to guests' emotions. A video of whales in the ocean from a balcony can certainly encourage anyone to book their next trip. It is also a great platform to earn social proof and earned media. Making areas that are "Instagramable" or Tiktok friendly is a great way to ensure guests post socially about their recent stay with you.
Learn how to attract travellers with Instagram
These platforms are not the only ones available to hotels to generate a social media presence. There are hotels that thrive using other platforms like Pinterest and Reddit in interesting ways, and the more creative your marketing team is, the more ways they will find to creatively promote your hotel on the various social media platforms. But, if you are new to social media, you should remember, it is better to start small and pick only two or three platforms so that you can post regularly on the platforms that you do use, to engage with and entice guests, and to show that you are actively in business.
The most important thing for your social media is for you to stay alive. All too often hotel marketers create social media accounts, put up a few nice pictures, and move on with their lives. Having a Facebook page where your last post was eight months ago might be worse than not having one at all.
Find out how keeping social media alive can increase your direct bookings
If you are struggling to keep your content up to date, here are a few tips and tricks that can help you:
Keeping a stockpile of photographs of your hotel for use on a rainy (or busy) day,
Make the most of the reviews that your hotel gets and share them on social media (great for social proof)
Schedule posts when you find the time rather than always trying to post in the moment.
Reshare guest content (with permission)
Encourage guests to engage through checking in, tagging and commenting – you can also enhance this by creating a hashtag for your hotel
You can also do live videos – think unfiltered live virtual tour of your property
These tips can come in particularly handy during the busy seasons, when all hands are on deck, and finding a chance to glance at your computer can be difficult, nevermind posting to Facebook, tweeting on Twitter or adding images to Instagram!
Look over tips for creating quick and easy social media posts during your high season