MINT hotels
GuestRevu, RoomRaccoon and MINT Hotels - how this tech integration worked perfectly for innovative manageMINT
MINT Hotels use GuestRevu and RoomRaccoon as part of their best-in-breed tech strategy: finding top contenders in each category and then creating a seamless integration.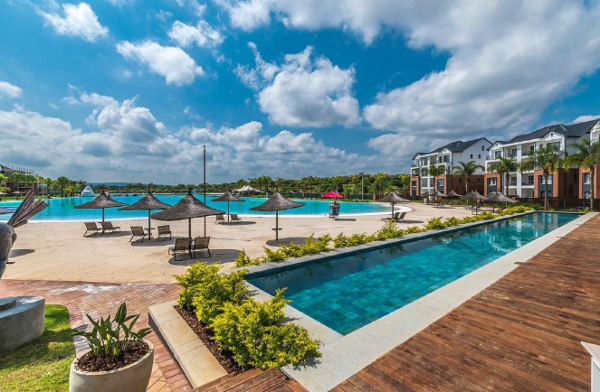 The MINT Group is a self-proclaimed disruptor in the industry, currently housing 5 properties under their banner, with many more to come. The South African group can sleep guests in the Gauteng area in over 500 rooms, from express hotels to luxury family resorts.

Their philosophy is to ensure quality service and value for money throughout all stages of their guests' lives and career paths, with budget-friendly express hotels for those just starting out their careers, trendy mid-tier hotels for middle managers and finally the collection and suites for top executives looking for personalised luxury.

So what unites all of these different experiences under the MINT banner? "Being guest-focused – everyone is a host" says Adriaan Liebetrau, head of hospitality for MINT. "No matter if you are a mint-keeper, mintenance guy, everyone acts as a host," and the informal, guest-centric atmosphere where there are no ma'ams or sirs, and staff strive to address each guest by name.
MINT was a new brand, but it was expanding at a break-neck speed. The group was quickly outgrowing stagnant technologies, and old-school data-entry procedures. They weren't getting to all of the guest feedback all of the time, and when they were, it was a full-time job.
Finding best-in-breed technology that could keep up with their growing,
innovative approach
Opening their doors for the first time during the Covid-19 pandemic put MINT Hotels in a unique position. "While everyone else was pumping the breaks, we were hitting the accelerator," says Adriaan. While this gave them an edge over the competition and was key to their rapid growth, it also meant that they faced a huge degree of uncertainty and instability in the market, not to mention building delays and a small head office team managing 500 rooms at 90-95% occupancy. In order to do all this, especially in the innovative, guest-centric way they wanted to at MINT Hotels, they needed to have a quality tech stack at their disposal.

The property management system (PMS) the brand was using before its launch initially seemed adequate, but it soon became clear during the group's rapid expansion they needed technology with a little more vision, and Adriaan decided to move over to RoomRaccoon.

The MINT Hotels head office team initially handled reviews and guest feedback manually, with Adriaan answering all reviews personally. But, as various expansions catapulted the group from a 21-room hotel to a 500+ room group, there was no way that any one man (not even Adriaan) could keep up.
Becoming increasingly overwhelmed by guest feedback and review
Once the group realised there were too many reviews for one person to handle they employed a dedicated guest relations manager. Adriaan remembers; "all she did was respond to guest reviews" and try to analyse the different OTA platforms, asking, "What are the guests saying on Google, on Tripadvisor, on Booking.com, on Expedia, on Facebook and so on" and to try and come up with some form of consolidated information. This was taking up all of the guest relations manager's time and without much concrete data to show for it. Although he was guarding his budget carefully, "I knew it was time to start using GuestRevu," admits Adriaan.
MINT Hotels had organised their tech stack perfectly with the RoomRaccoon PMS as the central spoke. Before implementing GuestRevu, Adriaan felt that they "didn't have a system that really looked after the guest experience" – something he knew was critical to the success of the brand. "Our confirmation letter literally states that we strive to get 10/10 for each guest and if at any point during your stay, you feel we are not getting to that we want to know," Adriaan emphasises.
Adriaan realised that if they wanted to keep their business thriving in an increasingly competitive market, they needed to fully understand each guest's experience with the group through quality guest feedback solutions, and they needed to have enough time to give well-thought-out responses to each review and the chance for the guest relations manager to be proactive rather than reactive. As a forward-thinking business, they also knew they needed software to help them gather actionable insights from their guest feedback – data they could rely on when making operational decisions.
Missing small details as the group grew
In a growing group, you can't be everywhere at all times – but the guest experience needs to meet group standards wherever the guest is. As the group expanded, Adriaan noticed that there were discrepancies at some of the properties. "In one specific restaurant, when I would go there or any other management personnel would go there, there would be no issues," he recalls "but obviously when we turned our attention to something else, the issues would arise again. Without GuestRevu, I promise you, we wouldn't have known about it."
There were other minor shortcomings which resulted in the occasional negative comment. Although these are inevitable for any hospitality business, as Adriaan says, "If you really care about your guests, you want to know what your guests are saying about you."
An integrated ecosystem of best-in-class tools and solutions, to consolidate data, make informed decisions about the growing brand and ensure that each guest is being heard.
"I think what I realised in the last year is that one system cannot be everything and a lot of the other systems are trying to be everything but it isn't working," says Adriaan. "The fact that you can get all of the different systems to work together has been a real bonus for us."
The integration between RoomRacoon and GuestRevu meant that the system was automated, sending out detailed questionnaires to each guest, and in doing so it has:
Streamlined guest data into easy-to-use dashboards, allowing Adriaan and the management team to keep track of and act on guest feedback across the group simply and easily.
Repaired breakdowns in communication between hotels and employees, guests and hotel marketing and enhance guest relations.
Reduced time and manpower taken to respond and act on guest feedback and to manage the online reputation of the group.


The volumes of feedback you get are vast, so I need to get a summary of it on a dashboard, where it collects everything in one place so I don't have to go onto Tripadvisor and see what guests are saying there, Booking.com and Google etc. – it's all just here.
Clearing up lines of communication and bridging the gap between the hotel, its marketing messages and the guests
"What I have noticed is that before a review hits the public domain now we are aware of it because of GuestRevu" explains Adriaan. "Then the guest relations manager or GM can give the guest a direct call to understand what actually happened. This has really eased the bad reviews. We realised quickly that some of the guests misunderstood certain aspects during the booking process or expected something but hadn't actually booked it. It's definitely helped us with clearing up the communication with guests."
"Since implementing GuestRevu, our complaints have actually come down, because of the fact that we have so many repeat guests and now we can interact with them in much more detail. If there is something they are asking for, for example, introducing a breakfast buffet at Katherine, we can act on it. It's helped us to listen to what guests are saying and then implement it. I honestly believe we are one of the most unique hotel groups when it comes to that. When a guest says he doesn't like the pillows, we will buy new pillows for the whole group."
This has allowed the group to be able to grow rapidly and diversify their product offering in accordance with what their guests are actually asking for. Not based on what management thinks the guests are interested in.
Making quick but effective decisions based on real-time guest feedback
The group is still undergoing expansive growth, and is establishing it's all-important reputation and brand identity. The MINT hotels team is dedicated to excellent customer service, therefore they rely on their guests' feedback to make informed operational decisions about each area of the group.
"I think from that point of view, as I get the summaries, I can quickly send them to the GMs highlighting relevant actions, such as 'check your reservations department this is what the guests have said' or 'there is an issue with cleaning so let's see what needs to happen' or 'we need to get a paint job done'" explains Adriaan.
"There have been the smallest little things that if it weren't for GuestRevu we wouldn't have known about. We all get busy and we don't get to 500 rooms every single day, but now it's so easy to pinpoint where the guest stayed, and in which room." This ease of use for the GM of each hotel in the group can be a huge time saver. Adriaan mentions how, before implementing GuestRevu, "if someone left a review on an OTA, you would then need to go into the OTA, copy the guest ID, search the booking system with their ID, then you need to see – if the guest stayed a few times – which stay was this particular comment linked to."
This tracking and investigating process uses valuable time and resources for the group, it also can result in a delay in rectifying the issue or understanding the root cause, meaning multiple additional guests may be experiencing the problem in the interim and also giving negative feedback and potentially deterring future guests via negative word of mouth.
Real-time, easy-to-use data can save hoteliers not just time but also boost reputation and drive revenue as well. As an example, Adriaan remembers, "At Katherine Ave. when we just started with GuestRevu we noticed that we had a lot of complaints coming through about hot water, we found the water was just lukewarm and not boiling hot, so we upgraded some rooms to have their own geysers and we installed another heat pump, so it's definitely helped us to get those kinds of things sorted."
Creating a customisable and compelling survey
"No one likes a survey, let's be honest," admits Adriaan. "But, the way that the survey with GuestRevu is positioned and the way it comes across, you feel very comfortable and really want to give feedback and I think that's very different."
"Building the questionnaire itself, you have the standard template, it's quite easy but being as pedantic as I am, it took 2-3 months for me to build the custom surveys because I was consciously aware that in an express hotel, it is a first-time traveller, so you can't go and ask them about the 'fluffiness' or finer details, because that's not what they are there for. When we got to the hotel bracket I knew what to ask there and when we got to the 5-star luxury I knew we had to also focus on different aspects."
He praises the GuestRevu survey method, "One of my favourite things about GuestRevu is that if I say it was great you leave it as 'great', but if I say it was just okay then you prompt 'why?' and the guests have a chance to speak to us." Certainly, the way in which the surveys are constructed makes for more quality feedback and insights. Adriaan comments on his woes of relying on OTAs for guest feedback: "With Booking.com and Tripadvisor the guest will give you a 1 for breakfast, then you need to call the guest and ask them to elaborate, and often you get responses like 'We didn't have the breakfast'!" This means that again valuable manpower is wasted trying to identify the real areas of focus.
"I also love that there is free text, but only when the guest says they were unsatisfied. Not just at the end of the survey with a general comment section," says Adriaan. In his experience, Adriaan has discovered that if you ask someone to complain about something they will surely find something to complain about and you will therefore not get a true reflection of the guest's stay or their feelings around the hotel
"You don't want to ask 'was anything bad,' because yes, if you ask me that I'm probably going to find something," he explains. "I think GuestRevu has done really very well in terms of positioning the survey to be a true and honest answer to what the guest experience really is, and that is what you really want – authentic feedback on the guest experience."
Detailed reporting and consolidated data
Adriaan spends most of his time at head office, while still needing to keep a finger on the pulse of every property. "The volumes of feedback you get are vast, so I need to get a summary of it on a dashboard, where it collects everything in one place so I don't have to go onto Tripadvisor and see what guests are saying there, Booking.com and Google etc. – it's all just here."
Between the customised questionnaires tailored to each hotel type, and consolidated information on one easy-to-use dashboard "it has helped to streamline a lot of the feedback and reviews," says Adriaan. "So now, when we meet with the business partner once a month to show them what is happening, and meet with the team on the ground to go through what's happening at the hotel, part of those meetings is the GuestRevu report, where we can see what is needed in each property."
Why would you suggest GuestRevu to a fellow hotelier?
"Why not? At the end of the day, we all want to know how our guests feel about us. If you want to be ahead of the pack, the only way is to know how your guest feels about you. But there is no way on planet Earth that you can know what all of your guests are thinking or feeling or experiencing if you don't have some kind of survey. With OTAs, they are trying to be everything to everyone. Yes, they have a survey, but I think with GuestRevu you actually gain real feedback from your guests. If you really cared about your guests you'd want to know what your guests are saying about you."