Sandy Beach Hotel & Resort
Sandy Beach uses GuestRevu to get more reviews and deeper insights help to improve the level of service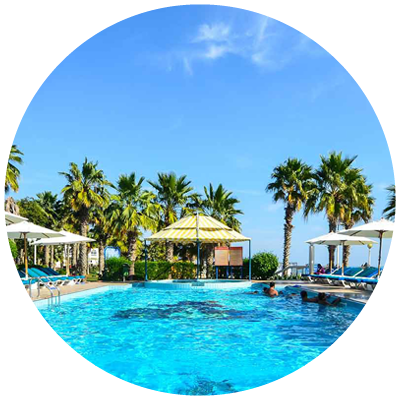 Sandy Beach Hotel & Resort is a 98-bedroom resort set against the dramatic backdrop of the Hajar Mountains in the emirate of Fujairah in the UAE.
The resort welcomes a diverse, international clientele typical of the region, and GuestRevu help the team to collect and keep track of the feedback they need.
The limitations and time constraints of
collecting guest feedback

manually
• Reviewing paper-based questionnaire cards
Hours were being spent collecting and looking through the manual questionnaires that the hotel provided for their guests, but because of the limitations of the questionnaires, few insights were being gleaned from them.
• Searching through third party review sites
General Manager, Tarek Aboudib, and his team knew how important online reviews were for "improving to the highest level of guest satisfaction," but despite spending countless hours searching through various review sites, they still weren't getting the information that they needed to keep the hotel growing and improving.
• Difficulty linking reviews to the guests that leave them
Tarek believes that the root to success in the hospitality industry lies in developing meaningful relationships with guests. But Tarek found that linking online reviews to specific guests and stays was sometimes an impossible task. "It was hard to graph a full undertanding of what the guest experienced in order to react accordingly."
An agile, cloud-based
guest feedback and online review management platform
GuestRevu's online guest feedback and reputation management solutions with TripAdvisor integration allowed Sandy Beach Hotel & Resort to:
Save time managing guest feedback
Easily collate direct feedback and online data for actionable insights
Easily respond to guests, further developing their relationship with the resort
Continually improve on the experience offered to guests
More TripAdvisor reviews than ever before
Within its first month of using GuestRevu, Sandy Beach Hotel & Resort were already reaping the rewards of the TripAdvisor integration, experiencing the highest number of reviews through the website than they had ever seen before.
"Having TripAdvisor integrated is a huge plus side for us. It channels guests to post their reviews on our page that maybe, without GuestRevu, they would never have been inclined to do," says Tarek. "Posting a review on TripAdvisor at the end of the GuestRevu questionnaire completes the loop."
These insights allow us to understand more of what the customer truly wants and appreciates in the resort. Even the smallest piece of feedback can sometimes make a huge difference in our customers' overall experience.
Guests experience your resort in ways that you, as a manager, may not be able to experience and therefore you can be blind to certain things.
More reviews and
deeper insights

help to improve level of service

With comprehensive guest feedback to act on at their disposal, Tarek and his team have been able to dramatically improve guest communication and service levels.
• Quickly acting on guests concerns
The combined power of real-time notifications plus the online dashboard mean that the hotel can resolve problems quicker than they were able to in the past.
• Pinpoint their strengths and weaknesses
With questionnaires and reviews being collated into a single dashboard, it is easier for Tarek to see trends in feedback, and see where the resort's strengths and weaknesses lie, and where improvements can be made.
• Connecting with guests
Time that was previously spent manually collecting and reviewing feedback can now be spent focussing on what Tarek sees as the most important goal: a guest-centric management strategy. As he has seen, "GuestRevu truly allows you build that open bridge between management and customers, and get on a more personal level with your guests and see things through their eyes rather than from a management standpoint."