The Coaching Inn Group
The Coaching Inn Group uses GuestRevu to help with expansion across UK
When this award-winning operator of inns and hotels set out to become the best of its kind in the UK, there was no question that the right guest feedback partner would make all the difference.
GuestRevu has helped improve their online reputation, maintain high standards across the group and save time.
Closing the gap between head office and multiple properties in an expanding group and
maintaining a guest-centric culture
• Multiple locations
As with any hotel group, the Coaching Inn Group had to ensure that even though they were running multiple businesses on different sites, all the GMs and their teams had the tools they needed to meet the high standards of the group.
• Consistent guest culture
"As a group of properties, one of our aims is also to make sure that our 'guest culture' is the same in every one of our venues," says Kevin Charity, Founder and CEO. However, without a digital system in place to manage the group's guest feedback and online reputation, this was exceptionally difficult.
• Limited insights
Kevin and his team were aware of the limitations of manually trying to keep up with changes in guest expectations and online reviews – it was not only time-consuming, but it was leaving huge gaps in their intelligence in terms of guest experience management, insights and trends. TripAdvisor success also remained elusive.
An agile, cloud-based
guest feedback and online review management platform

GuestRevu's online guest feedback and reputation management solutions with its group dashboard and TripAdvisor integration allowed The Coaching Inn Group to:
Save time managing guest feedback
Easily collate direct feedback and online data for actionable insights
Manage individual properties more effectively
Continually improve on the experience offered to guests
As a Guestline Rezlynx user, the group also took advantage of integration with their Property Management System, which allowed guest feedback to be requested and collected seamlessly.
TripAdvisor reviews
boom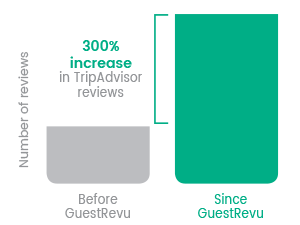 By driving reviews to the world's largest travel site, GuestRevu's TripAdvisor integration helped the group attain the success on TripAdvisor which had previously eluded them in today's competitive environment. GuestRevu also helped the management team keep on top of review responses, thanks to regular email notifications.
One property received an increase of more than 300% in the number of reviews published on TripAdvisor in the first three months after GuestRevu was implemented with TripAdvisor integration. Overall, the group has also seen an improvement in properties' average review scores, which means that more potential guests are likely to book.
GuestRevu provides us with intel directly from our customers, which is invaluable. We are able to drill down to each and every comment to really get to the crux of what the guest experienced, and deal with it in the right way.
It's a business intelligence tool that facilitates you in making the right decision for your business. Without information, you're hamstrung in terms of making intelligent decisions around your business... If you have an intelligence platform that's telling you that 65-70% of your guests are saying that you need to spend money, you need that information so that you can make that informed decision.
We can report weekly and monthly, and the GMs are trying harder than ever to impress and going the extra mile, and the individual team members on site also strive to get positive mentions.
Actionable guest insights

and a guest-centric group culture from top to bottom
The Coaching Inn Group now quickly and effortlessly gathers information that is easy to interpret, and the management team has a much better idea of what is going on at individual properties and in the group as a whole.
• Streamlined management procedures and better insight into operations at individual properties
By keeping an eye on overall trends in guest feedback from each property, group management can easily spot any downward trends, identify the cause and make improvements. For example, group management was able to identify one hotel's overdependence on its GM when service scores suddenly declined while he was on holiday.
• Better-informed investment decisions for better returns
Rather than basing investment decisions on the opinions of a single manager or executive, the Coaching Inn Group now uses guest intelligence to indicate specific areas for improvement.
• More motivated employees and a culture of valuing guest feedback
Because the Coaching Inn Group has the ability to benchmark hotels in the group against one another, GMs at individual properties are motivated to outperform one another, and individual staff members strive to be mentioned by guests in the surveys and win the group's "hero of the month" award and associated prizes.